Wykorzystanie zdjęć w formularzach google
Google docs to narzędzia, które są wykorzystywane w tysiącach szkół na całym świecie. Kilka dni temu google dodało nowe możliwości w formularzach, które doskonale sprawdzają się w szkołąch, umożliwiając przygotowanie testów, quizów i ankiet ewaluacyjnych.
Dokładną instrukcję jak przygotować test za pomocą formularza znajdziecie w tym artykule. Dzisiaj chciałbym opisać dodatkowe możliwości, które zostały dodane w ostatnich dniach.
 Możliwość umieszczania zdjęć
Na taką możliwość czekałem, quizy, ankiety i testy stają się dużo bardzo atrakcyjne.
Jak wstawić obraz do formularza?
Z menu wstaw wybieramy obraz
Możemy wybrać zdjęcie lub grafikę, która znajduje się na dysku komputera, w internecie lub na dysku google.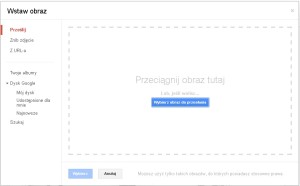 Z tego poziomu możemy również wyszukać zdjęcie w internecie i wstawić bezpośrednio ze strony
Jeśli zdjęcie będzie zbyt duże to możemy zmiejszyć przeciągając narożnik
Poniżej przykładowy test, który jest dostępny również tutaj
Pamiętajcie, że udostępniając formularz współpracownikom możecie podzielić się pracą i stworzyć wspólnie doskonałe dokumenty.
Powodzenia!
https://cyfrowynauczyciel.pl/wp-content/uploads/2013/05/ktora-godzine-wskazuje.jpg
519
639
Krzysztof Kwaśniewski
http://cyfrowynauczyciel.pl/wp-content/uploads/2019/04/logoooooo-2.png
Krzysztof Kwaśniewski
2013-05-15 19:51:46
2013-07-22 12:05:18
Wykorzystanie zdjęć w formularzach google